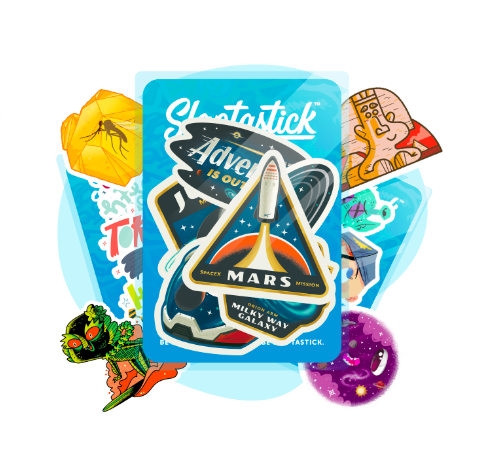 The Visitor
This month-2-month subscription is for the stalkers. Don't know if you're ready to commit to an ongoing subscription? Receive one month of Slaptastick stickers without the worry of a commitment. You'll be jumping with joy as you slap stickers! This subscription auto renews every month.
Month-2-Month Subscription
How Many Stickers Are In Each Pack?
7 - 10 Stickers Per Pack + 1 Bonus Sticker
When Are The Sticker Packs Shipped Out?
Orders start shipping out the 1st of the Month and go all the way till the end of that given month. (ex: July 1st, 2019 - July 31st, 2019)
What Is The Sticker Material?
Durable, Long lasting, Premium Vinyl with UV laminate protecting from scratching, water, and sunlight.
Shipping & Packaging:
World-Wide Shipping with tracking. International shipments have tracking and take between 2-4 weeks to reach it's final destination and come with tracking.

*Disclaimer:

The sticker packs shown are from previous months and are not the sticker packs being sent out. Snag previous sticker packs till they gone in our Sticker Vault.